Which ecommerce website platform is the best and some insider tips on what to look out for when choosing the right platform for your online store.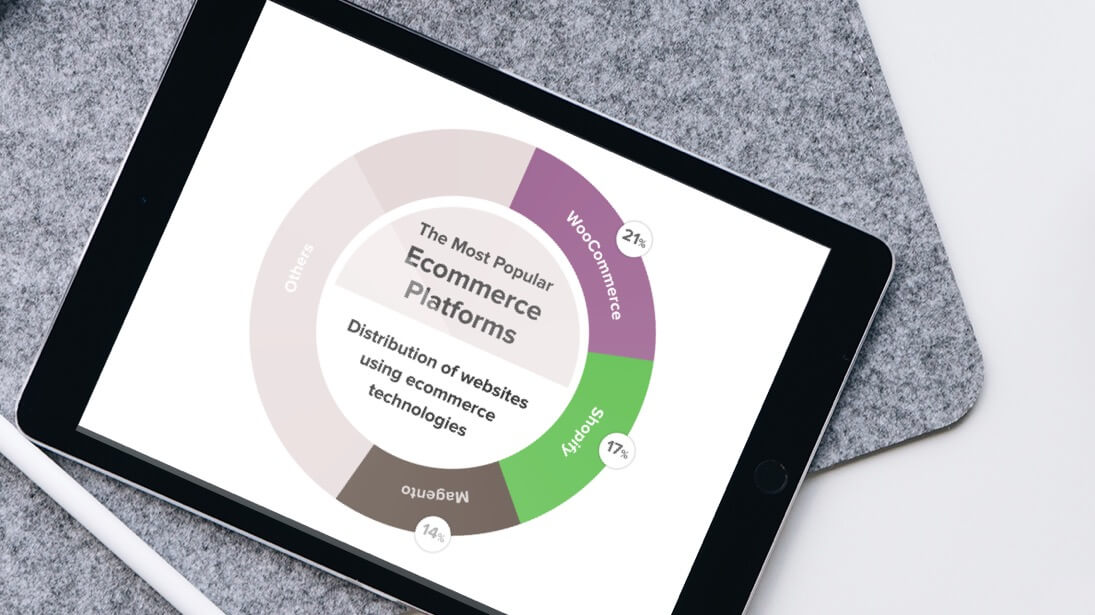 When setting up or running an online shop, the ecommerce website platform you choose is the most important consideration you'll make.
Before we get into the nitty gritty of the best ecommerce platforms, let's first define what an ecommerce platform is.
What's an Ecommerce Platform?
Sounds like an obvious question, but to give this article context, let's define what I mean by 'ecommerce platform'.
To put it simply, an ecommerce platform enables businesses to sell products and services online.
Before modern ecommerce platforms were available, if businesses wanted an online store they had to have bespoke ecommerce software built which required a heavy amount of development and ongoing management by a dedicated IT and dev team.
This way of running an online store made both the upfront and ongoing costs enormous. Plus, the likelihood that you could scale your store was low, unless you had major investment.
Enter Open Source and SaaS Ecommerce – The New Age of Ecommerce Platforms
Open Source and SaaS (Software as a Service), a new breed of ecommerce software, 'out of the box' gives you a system that brings together powerful backend functionality (order management and checkout integration) with a front end experience that can be easily customised to create an engaging and personalised experience for your customers.
Open Source Ecommerce Platforms
In general terms, open source refers to any program made available for use or modification as developers see fit.
Open source software is usually developed as a public collaboration and made freely available to anybody.
For example, WordPress is a free and open-source content management system which gives you a front-end website and back-end system that allows you to manage the content on your site.
When paired with WooCommerce (a free plugin) WordPress also becomes a powerful online store (which we'll cover later in the article).
SaaS (Software as a Service)
SaaS is a hosted service that you pay for (usually on a monthly basis) which hosts all of your code and data.
Shopify is a great example of an ecommerce on SaaS. With Shopify, you pay a minimum of $9 per month and within minutes, you can begin selling online.
How to Pick Your Ecommerce Platform
Imagine your platform is a bricks and mortar store. If you want the right customer, you wouldn't pick a crumbling store that's on a shitty street.
However, it's easier to pick a physical shop over an ecommerce platform, as with a physical shop, you can actually see the building, what street it's on and estimate the amount and type of customers you'll get.
Ecommerce platforms are virtual. You can't see them before they're built, you can't walk around the empty shell of an ecommerce platform and give it a poke. So how do you decide which platform is right for you?
In this article, I'll run through the considerations you should make when choosing a platform and which platforms are the best to choose from.
If you're thinking about setting up an online shop or are considering moving platforms, then read on and find out about the best ecommerce platforms to use and why.
Which are the Best Ecommerce Website Platforms in Numbers?
According to Built With the most popular ecommerce platforms in the 'Top 1 Million Sites' are: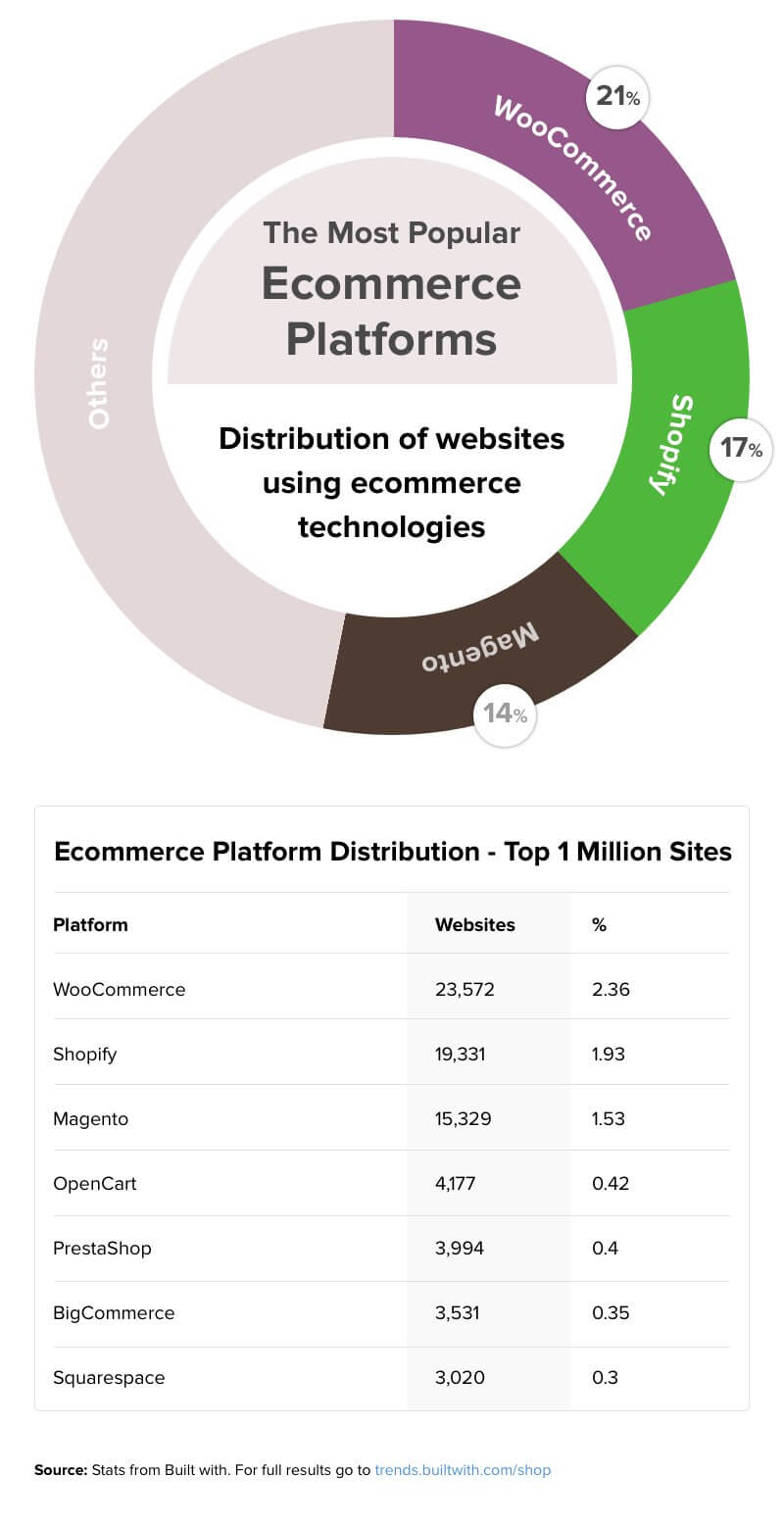 Which Ecommerce Platform to Choose?
Rather than trawl through the top 7 ecommerce platforms, I've done the grunt worked and focused down on the 2 most popular ecommerce platforms, that are arguably the best out there right now.
The good and bad points for each online platform have been highlighted below to help you decide which platform is right for you.
WooCommerce
Free, open source platform
Scalable
Integrates with all the popular payment gateways
In the words of WooCommerce "With 51,314,329 downloads, WooCommerce is the most popular eCommerce platform on the web (stats from Builtwith)."
"There are over 23,000 WooCommerce Stores Worldwide"
WooCommerce, an ecommerce plugin for WordPress, is an open source ecommerce platform that's become popular for its simplicity to install and customize.
Like WordPress, WooCommerce is completely free – that's the beauty of 'open source' – a completely free system that allows you to develop on top of.
The Good
Setup within minutes
Providing you have a WordPress site already setup, you can have WooCommerce setup within minutes.
Search Engine Friendly
Being WordPress based WooCommerce is very good for ecommerce SEO.
A guided setup process
For beginners (and experts) there's a great wizard to take you through the setup, which acts as a checklist to ensure your store is setup correctly.
Completely free
The plugin is completely free and the enormous list of features means that it has you covered to begin selling online.
Scale your store and extend the functionality
If you want to extend WooCommerce, then there are a tonne of great plugins out there (both free and paid for) which help you install new features such as the WPML plugin to allow you to translate your site in over 40 different languages.
Easy back-end order management
The back-end ordering functionality is simple and more importantly gives you an ordering process which is very intuitive, making sure you keep on top of shop admin.
Flexible product options
Whether you're selling physical products or online courses, adding products is easy. From simple products through to grouped or virtual products, you have a wide range of options when setting up your catalogue of goods.
An enormous community of support
Both WordPress and WooCommerce have a huge community of developers. This is good for 2 reasons.
If you come across a problem and try to 'Google' your way out of it, you'll likely find the answer to your WooCommerce woes.
If you need assistance or regular support for your WooCommerce store, then there are thousands of developers who know how to develop upon the WordPress/WooCommerce platform. So, you're never on your own as there's plenty of people who can help.
The Bad
Self hosting
In order to setup WooCommerce, you first have to install WordPress, which mean you have to self host your site. Setting up hosting requires choosing a hosting provider (I recommend Nimbus Hosting), installing WordPress (get a developer to help with this). Even though this may take a little time, it's fairly painless and you only have to do it once. Also, there's thousands, if not, millions of developers out there who can help you to install WordPress.
Bloat
When running an established WooCommerce website that's getting over 200 sales per month, it can become quite bloated and slow down the website. However, there are some great tools out there to help optimise WooCommerce and make sure it doesn't slow down you or your customers.
Developer assistance
When you begin to grow your store, you'll more than likely need a designer/developer to help you maintain your site. However, if your store is getting to the stage where you're experiencing more sales then you should budget for a developer to help with maintenance, so that you can concentrate on your business and not get bogged down in the techy nitty gritty (unless you enjoy that stuff).
Shopify
Shopify, is the most popular SaaS ecommerce platform, a hosted service, which means you can spin up your online store in minutes and won't have to worry about setting up hosting.
With Shopify, you can choose from a wide variety of themes and customise the front-end of your store easily.
The Good
Simple setup
Setting up Shopify is a sinch. Run through their easy-to-use, online setup process and you'll be up and running in minutes.
Easy to use
With a simple (and beautiful) design in the back-end, setting up products and order management is a breeze.
Free trial
Shopify offers a 14-day free trial for each and every store you setup, so you can give it a try before taking the plunge.
Support team
Being a SaaS product means that you not only pay for the software to run your store, but you also get a support team to help you when times get tough on the tech side of things.
The Bad
Difficult customisation
Customising your Shopify theme or functionality can be a little tricky. Shopify have their own coding language 'Liquid'. Liquid isn't supported by a huge amount of developers, therefore finding help developing your store further can be problematic, but not impossible.
Not free
Shopify isn't free, however it is hosted and you get a support team. So, you're paying for a service.
Hidden costs
However, it's the hidden costs you have to watch out for e.g. shopify's apps – these can increase your monthly costs.
Monthly costs can creep up
Adding Shopify apps gives your store more functionality, e.g. 'MailChimp for Shopify'. MailChimp for Shopify allows you to integrate your Mailchimp account with your Shopify store. However, the apps are usually paid for on a monthly basis, like your Shopify subscription. Therefore, you may start paying $29 per month, but adding more apps will begin to increase your monthly costs. This can hinder growth.
You don't get all the features you need out of the box
Sales reports and other hidden features that you can only get with the 'Advanced' plan at $299 per month.
The basic plan at $29 per month certainly gives you an online shop. But, you soon realise why it's called the 'basic' plan, because some features which you'd expect, are locked down and can only be accessed by upgrading.
For example 'Gift cards' on the basic plan, you can't sell physical or virtual gift cards.
The additional cost when using external payment gateways
If you use an external gateway to take payments, such as PayPal you pay a fee per transaction (3% approx). On top of that Shopify also charge you (the shop owner) a 2% fee (on the basic plan). So, watch this hidden cost, as it could chew into your profit margins.
In Summary
When choosing an ecommerce platform, you need to think about what's right for you now and in the future.
For example: Shopify is a great platform for speed and simplicity of setup, but just watch for those hidden costs, which can bite you in the butt later down the line.
My advice would be to try and imagine your online store in 10 years time and ask yourself the following:
How many products will I have and what type of products?
Does the platform I've chosen cope with 300, 1000 and 10,000 products? Are my products physical or virtual? If they're virtual, does my ecommerce platform give my customers easy access to them?
Who are my customers and what are they buying?
Do my customers come from all over the world and will they want to use my website in their native language and currency?
What payment provider will I be using?
If you're using PayPal, what will the fees be? For example, If you had an average order value of £50 and the fees were 5% per transaction, then the monthly cost to take payments are £30,000 per month.
Will I need a developer or agency to help?
If you hire a developer or digital agency to help with design, development or digital marketing will they be able to work on the platform? If you're on a less common platform or proprietary system, you may find it tricky to find a team to work with and it's important that your internal and external team can help you.
Is my platform going to last?
A tricky question to answer, as the future isn't certain. However, look into the history of an ecommerce platform, find out how long it's been around and how many people work on the platform. This will give you a steer on whether or not it will be around in the future. You need a platform that will stand the test of time. The last thing you want to do, is build a great online store and then have to migrate it over to another platform.
Will my platform grow with my customer needs?
Your customers (or users), use millions of websites each day and will expect yours to be just as good or better than the rest. Do you have a platform and design that can respond to your customers needs over time and deliver a great online experience.
A Final Word
Which ecommerce platform is the best? Most of the popular platforms listed in the chart above are good options and will help you to sell online. The best ecommerce platform for you will depend on what your needs are.
For an all-in-one service with a built in payment gateway, Shopify is your best bet.
WooCommerce is your best option for a self-hosted platform, and will give you a solution that grows with your business.