We're loving our article in Cotswold Style this month and have had such a great response! Find out what Georgina has to say about Factory Pattern including how it all began and what the future has in store.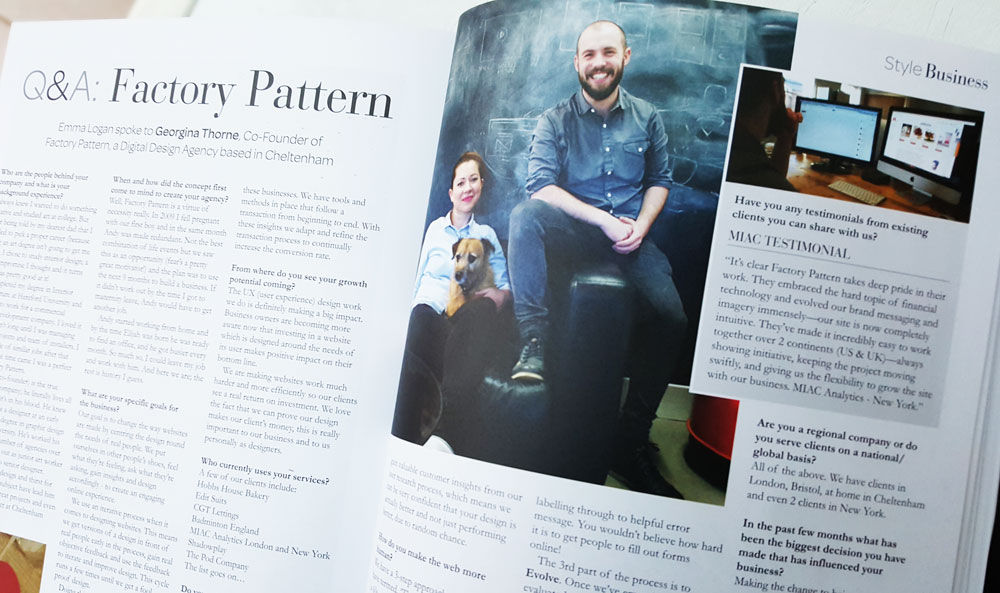 Cotswold Style Q & A with Factory Pattern
By Georgina Thorne – Co-Founder, Factory Pattern
Who are the people behind your company and your background experience
I always knew I wanted to do something creative and studied art at college. But after being told by my dearest dad that I needed to pick a proper career because doing an art degree isn't going to get me a job, I chose to study interior design, a fair compromise I thought, and it turns out I was pretty good at it.
I completed my degree in Interior Architecture at Hereford Uni and went on to work for a commercial interior development company. I loved it and it wasn't long until I was managing my own projects and team of installers. I had a couple of similar jobs after that but when the time came I was a perfect fit for Factory Pattern.
Andy is the true heart of the company, he literally lives all things design, it's in his blood. He knew he wanted to be a designer at an early age, and got his degree in graphic design at Swindon University. He's worked his way through a number of agencies over the years starting out as junior artworker and working up to senior designer.
His passion for design and thirst for knowledge on the subject have lead him to work on some great projects and even lecture on the subject at Cheltenham Uni.
When and how did the concept first come to mind to create your company
Well, Factory Pattern is both a virtue of necessity and allows us to do what we love – being creative. In 2009 I fell pregnant with our first boy and in the same month Andy was made redundant. Not the best combination of life events, but we saw this as an opportunity (fear's a pretty great motivator) and the plan was to use the next 9 months to build a business. If it didn't work out by the time I got to maternity leave, Andy would have to get another job.
Andy started working from home and by the time Elijah was born he was ready to find an office, and he got busier every month. So much so, I could leave my job and work with him. And here we are, the rest is history I guess.
What are your specific goals for the business
Our goal is to change the way websites are made by centering the design around the needs of real people. We put ourselves in other people's shoes, feel what they're feeling, ask what they're asking, gain insights and design accordingly to create an engaging online experience.
We use an iterative process when it comes to designing websites. This means we get versions of a design in front of real people early in the process, gain real objective feedback and use the feedback to iterate and improve design. This cycle runs a few times until we get a foolproof design.
Doing this means we explore the possibilities of what could be, and create desired outcomes that truly benefit our clients.
What markets do you serve
We work with a wide variety of B2B and B2C clients locally and internationally, but retail, e-commerce, hospitality, food and drink are areas where we make the most difference.  
We have the most impact in this area because of the transactional nature of these businesses. We have tools and methods in place which follow a transaction from beginning to end. With these insights we adapt and refine the transaction process to continually increase the conversion rate.
Where do you see your growth potential coming from
The UX (user experience) design work we do is definitely making a big impact. Business owners are becoming more aware now that investing in a website which is designed around the needs of its user makes positive impact on their bottom line.
We are making websites work much harder and more efficiently so our clients see a real return on investment. We love the fact that we can prove our design makes our clients money, this is really important to our business and to us personally as designers.
Who currently uses your services
A few of our clients include:
Hobbs House Bakery

Edit Suits

CGT Lettings

Badminton England

MIAC Analytics London and New York

Shadowplay

The Pod Company

The list goes on…
Do your clients have to be large companies or do you work with SMEs too
We work with both. Being a small company ourselves, we can relate to the challenges other SMEs face and can be flexible in our approach, and that flexibility pays off with larger companies too because we're able to move on things a lot quicker than bigger agencies.
Can you explain more what User Experience design does
User experience design is about creating an engaging experience that meets the needs of your customers (users). We gain valuable customer insights from our user research process which means we can be very confident that your design is actually better, and not performing better due to random chance.
Have you any testimonials from existing clients you can share with us
"It's clear Factory Pattern takes deep pride in their work. They embraced the hard topic of financial technology and evolved our brand messaging and imagery immensely—our site is now completely intuitive. They've made it incredibly easy to work together over 2 continents (US & UK)—always showing initiative, keeping the project moving swiftly, and giving us the flexibility to grow the site with our business. MIAC Analytics – New York."
How do you make the web more human
We have a 3 step approach – the 3 E's (no, they're not a 60s soul group). The 3 E's are Empathise, Evaluate, Evolve.
First of all we Empathise with people (or users) that are going to use the website. We consider the user's age, sex, location, how they use the website and more. Once we have a solid understanding of the user we can then Evaluate.
Evaluating is about using the data we gather about our users, then designing an iteration or version of a design. The design has both our creative flair and includes all the necessary elements that a user needs to complete a task. For example, if the task is to fill out a form, how can the design help them to do this. We remove anything that's unnecessary and guide them through the process of using a form from simple labelling through to helpful error message. You wouldn't believe how hard it is to get people to fill out forms online!
The 3rd part of the process is to Evolve. Once we've empathised and evaluated, we come to a conclusive design to launch with. No website design is perfect, but we're confident that by using the 3 E's, we can launch with a more foolproof design, learn from real users and develop (evolve) the design over time to constantly improve our clients websites… Then jump for joy when we get it right – this is a very important part of the process.
The 3 E's approach is not only applied to the design we do but also our business strategy. We believe that we can use this design thinking as a strategy and make business more successful.
So much so, that we're doing the first in a series of talks on how businesses could employ design thinking and employ a more user focused approach to improve their business. Shameful plug coming… To find out more and how you can attend, visit www.factorypattern.co.uk/tales
Do you see recruitment growth in your business and what, if any. qualifications do people need
Yes definitely, we would love to see the Factory Pattern team grow further and are on the hunt for a new front end developer to join the team.
Are you a regional company or do you serve clients on a national/global basis
All of the above. We have clients in London, Bristol, at home in Cheltenham and even 2 clients in New York.
In the past few months what has been the biggest decision you have made that has influenced your business
Making the change to being a user experience design agency. We've always focused on being a digital agency but now we're refining our approach and specialising in user experience design which involves building a new user testing lab, where we can observe how real people use websites and gain deeper insights so that our design is always improving and in turn our client's bottom lines.
What's next for Factory Pattern?
We are really excited to be hosting a series of creative masterclasses at Factory Pattern starting March 11th 2016 that are designed to inspire and improve you business. We've got some very exciting speakers on board. More at talesfromthefactoryfloor.co.uk