Since 2006 Twitter has gripped the world with #hashtags, debates, disagreements, and the occasional controversy. Keeping the nation interacting on the daily means Twitter has a duty to perform regular updates, in order to keep their users motivated.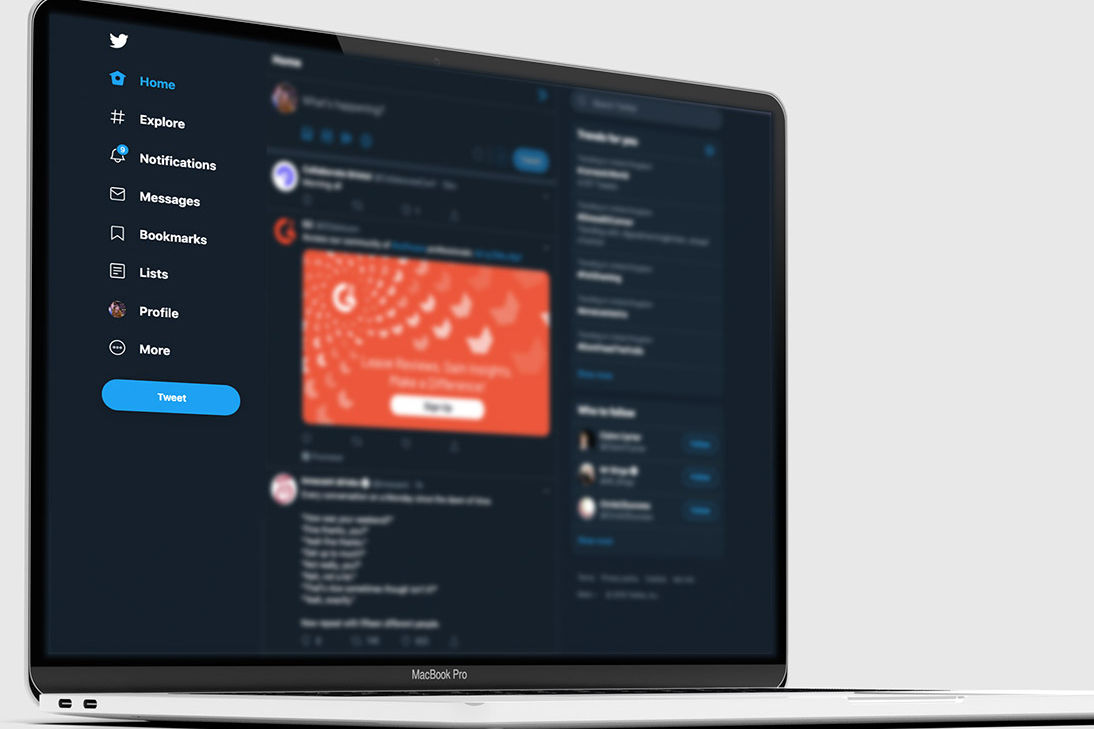 For over 13 years Twitter has launched multiple features and design updates to the platform; from changing the tweet character count from 140 to 280 through to introducing threaded conversations.
Throughout the many updates, Twitter has also completed 4 major rebrands; which has finally allowed their famous blue bird to take center stage.
In July 2019, Twitter launched their biggest design update yet. It's been 7 years since the last redesign! But, will this new design and updated features help to bring new interest into the platform and save it from the bad press it's been having lately? #DonaldTrump.
Twitter's biggest design update in seven years
We have analysed the new Twitter desktop design and focused on their 3 new features to see how they score on our 5 point UX scoring system.
We have investigated these features to find out the good, the bad and ugly of each and find out how well these elements perform and how useful they really are.
However, the real question is; will these new features improve the user experience and keep people hooked?
3 new features: Explore, bookmarks and personalisation (dark mode)
The new features that Twitter shout about are:
Explore
Bookmarks
Personalisation
Explore
The Explore page gives us further and more in depth information that we don't have on our home feed. Exposing us to Tweets that we may (or may not) be interested in. This is a great way to encourage users to get more value from Twitter without the need to search.
Specifically, the 'Explore' feature can be found under a section called 'Trends for you'. Twitter have selected tweets and news stories that 'should' be relevant to you, however (for me) the 'Trends for you' section currently features very generic stories, nothing specific has been selected for me. Which leaves me a little cold and wondering if the feature is actually working.
To give context, I've been an active user on Twitter since 2009. So, I'd like to think Twitter has enough data from me in order to serve up trends that will interest me.
But… I did scroll further and found that there were Tweets about UX, Web design and Typography – which better reflect trends that I'd be interested in.
Too much discovery required to 'explore'
The 'Explore' feature has the potential to draw me in, if it were to prioritise Tweets that I'd genuinely be interested in, over Tweets that aren't relevant to me.
Bookmarks
The Bookmark feature allows you to save tweets into a specific area (bookmarks) on your profile meaning you can go back and view the
tweets without the need to favourite or retweet to keep it visible.
Considering this is a new feature, it is not clear how to bookmark a tweet.
There is no signifier informing you of the 'bookmark' button or what to look out for.
The feature 'add tweet to bookmark' is buried underneath the bottom right icon in a tweet which looks like an upload button.
Bookmarking in itself is a well known tool (especially on the web) and a feature that a lot of users will welcome. However Twitter have failed on making their bookmark feature discoverable.
Luckily Google have all the answers, but if I need to Google 'how to use Twitter Bookmarks' to find a feature, then it's clear that Twitter need to do a little more work here to ensure users begin using this new feature.
Personalise
It was not too long ago since Twitter introduced the famous 'dark mode' allowing you to change your screen from light to dark, this was introduced the same time as studies were completed that proved how mobile
screens can affect your vision and sleep habits, Iphone addressed this with their 'night mode' and twitter soon followed.
Twitter have now created new features allowing you to further personalise your profile with a multitude of colour themes changing all elements we know to be blue into another colour of your choice.
A scale to increase your text size has also been added, which is a big tick in the box for accessibility!
The final feature under personalisation is the new mid level, between Default (white screen) to Night time mode which has now been renamed to 'Lights out' (black screen).
The mid level screen favours a light-mid grey with white text. A simple solution for those who don't want to completely turn to the dark side (mode), but still want to protect their peepers.
Twitter get a UX score 3.5 out of 5 for the new Twitter Design
Using our very own 5 point UX scoring system, we've given the new Twitter design a 3.5 out of 5. The below review outlines each point in our scoring system and how the Twitter design fairs against our rigorous UX test.
The results
Relevance 5/5
The homepage meets the usual expectations that we're familiar with; everything is still working as it always has on the desktop site. The design is still familiar, with all the important and high priority features available. The branding and colourways have been made visibly bigger, without feeling cluttered. A strong 5/5 for relevancy.
Clarity 3/5
Is the content on the page clear? Yes. More contrast could be added on the right in the  'Trends for you' section. It's not 100% clear if the news has been selected for me (users), or if the trends are for all users. Overall 3/5 for clarity as viewing tweets on the homepage is still effortless.
Value 2/5
Considering there are new features on the site, when logged into the homepage it's not immediately clear where these features are. More discoverability is required here, in order that users find and actually use the shiny new features. Overall a 2/5 for value as twitter could have made more effort to advertise their new features.
Friction 4/5
When any new design is released, friction increases in the user experience because users have to re-learn how to use the interface. Apart from the new 'Bookmarks' feature which left me cold, the new design is very easy to use and it took me no time at all to begin tweeting. Finishing with a friction score of 4/5
Distraction 4/5
The site is simple, easy to use and navigate. However, looking deeper, there are a mix of icons and links which aren't immediately obvious as to what they're for. For example, the cog icon to the right of 'Trends for you' could easily mislead users that this is a generic settings button. I'm also scared to touch the starry icon in the top right of the screen – it looks too 'magic'! Removing some of these actions or adding labels will help to reduce unncesary distraction, giving the site a distraction score of 4/5.
Watch this review