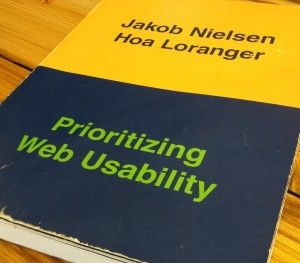 For world book day, I've reviewed a book that I'm currently reading – Prioritising Web Usability.
Whether you're learning more about user experience or just delving into it for the first time, this book is for you.
Prioritising Web Usability was published in 2006, so even though it's 9 years old, the user experience principles and theory are still very current.
Why am I reading the book?
The preface pretty much sums up why this book is important to anyone with a website.
Ten years ago, the Web was exciting to people. Today it's routine. It's a tool. If it's convenient, they will use it; if not, they won't. With ten times as many sites and probably a hundred times as many pages on the Web, users are getting less tolerant of difficult sites, so every design flaw means lost business. Usability has become more important than ever.
3 of my favourite quotes from the book:
People type in a few words to Google, get a nice list of companies that are competing to solve their problem. All are one click away, and none get the time of day if they impose too many barriers or delays in getting people what they want.
If people can't or won't use a feature, it might as well not exist.
Killer sites can kill business. The best way to do business on the web is to create sites that your customers can use.
Summary
Definitely don't judge this book by it's cover; if you're designing websites, then this is your guiding light in user experience. Get stuck into the book and make the WWW better.