The Art of Thriving is a leadership development consultancy which has years of hands-on experience with clients such as Microsoft, The Environment Agency and many other household names.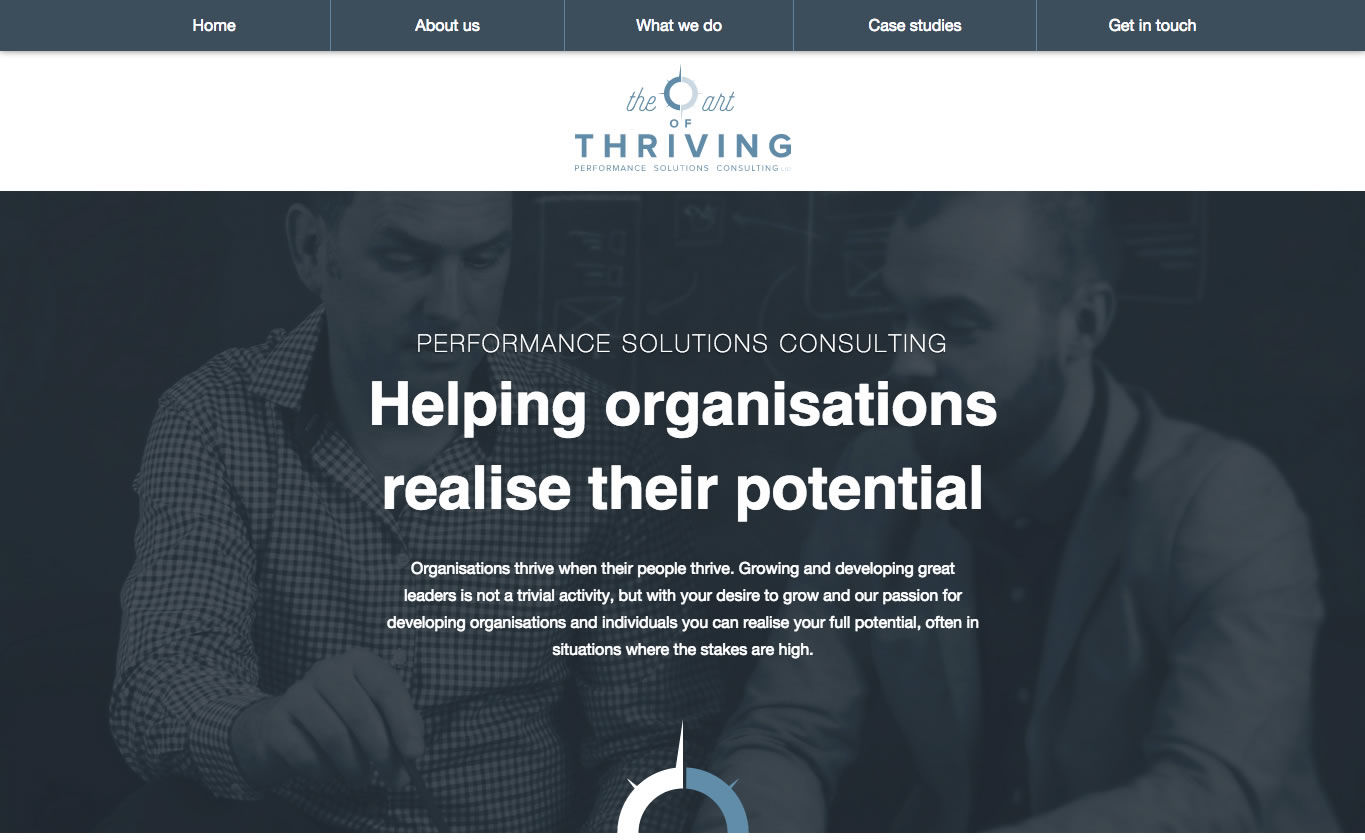 Richard Cartlidge, the founder and managing director was formerly a navigator in the Royal Air Force and this unique experience crafted a leadership philosophy which sets him apart from his competition.
Why the client contacted us
The Art of Thriving was in need of a new brand and website with the goal of getting the business out to a wider audience.
They also wanted a platform on which they could share advice and increase the number of leads to generate more business.
How we helped The Art of Thriving
The Art of Thriving contacted us via a client recommendation and we worked with them to communicate their wealth of knowledge and dynamic approach to leadership consultancy.
Understanding their philosophy was key to creating a dynamic brand and engaging website. Richard is the mastermind behind The Art of Thriving and we really wanted to bring his personality and knowledge to the fore.
The challenges
Website to be launched quickly and efficiently
The Art of Thriving was keen to get an online presence, so we built a one page website which highlighted their company info, services and case studies but also gave them a framework to grow the site.
The copy writing and photography was real team effort and it was great to help them optimise their copy so that it translated well to the web.
Website launched designed and developed within 4 weeks.
Content management and blogging capabilities
The site has been built on WordPress; which gives The Art of Thriving a blog and the ability to add more pages as the site grows.
With an easy-to-use content management system The Art of Thriving learned how to manage their content quickly. In particular we are helping to develop the ongoing blogging schedule.

Bespoke, mobile friendly website
We designed and built a bespoke website that works well on mobile, tablet and desktop.
The layout and functionality of the site has been designed so that the experience on all devices is slightly different but with a consistency that means you know you're still in the same site, no matter what the device.

Brand identity
The design has been centred around navigation and the compass motif helped to develop an impactful brand identity which appeals to large brands such as Microsoft and The Environment Agency whilst not alienate SMEs and individuals.
The result
Together, we created a strong brand and a dynamic website that aligns with the philosophy and values of The Art of Thriving.
Now they have a website which will get them out to a wider audience and an easy-to-use content management system which will ensure the site grows in step with their business.
Website: theartofthriving.co.uk
Testimonial
"When I first met Andy and George I was struck by their energy and enthusiasm for what we could achieve together.  The brand and website they have come up with fits better than I could have imagined…they have read me and what I wanted unnervingly well!  Without exception all of my clients who have looked at the website have commented on it very favourably and I look forward to developing it further as the business grows.  Thank you guys." – Richard Cartlidge – Director at The Art of Thriving