How to Prepare Your Website for Christmas Online Shopping
The race is on! It's time to cash in the festive spending frenzy and get your sales zinging. With these five quick ways to boost Christmas online shopping performance.
There are quick and easy ways to transform your ecommerce website with some festive sparkle, figuratively speaking. Simple improvements that can hold buyers' attention better and help you convert more leads from Christmas online shopping.
As it's the peak on the retail calendar a massive overhaul of your website design is unfeasible, but to stay competitive you can't afford to stand still.
Here are 5 simple steps to prepare your ecommerce website for Christmas online shopping.
1. Automations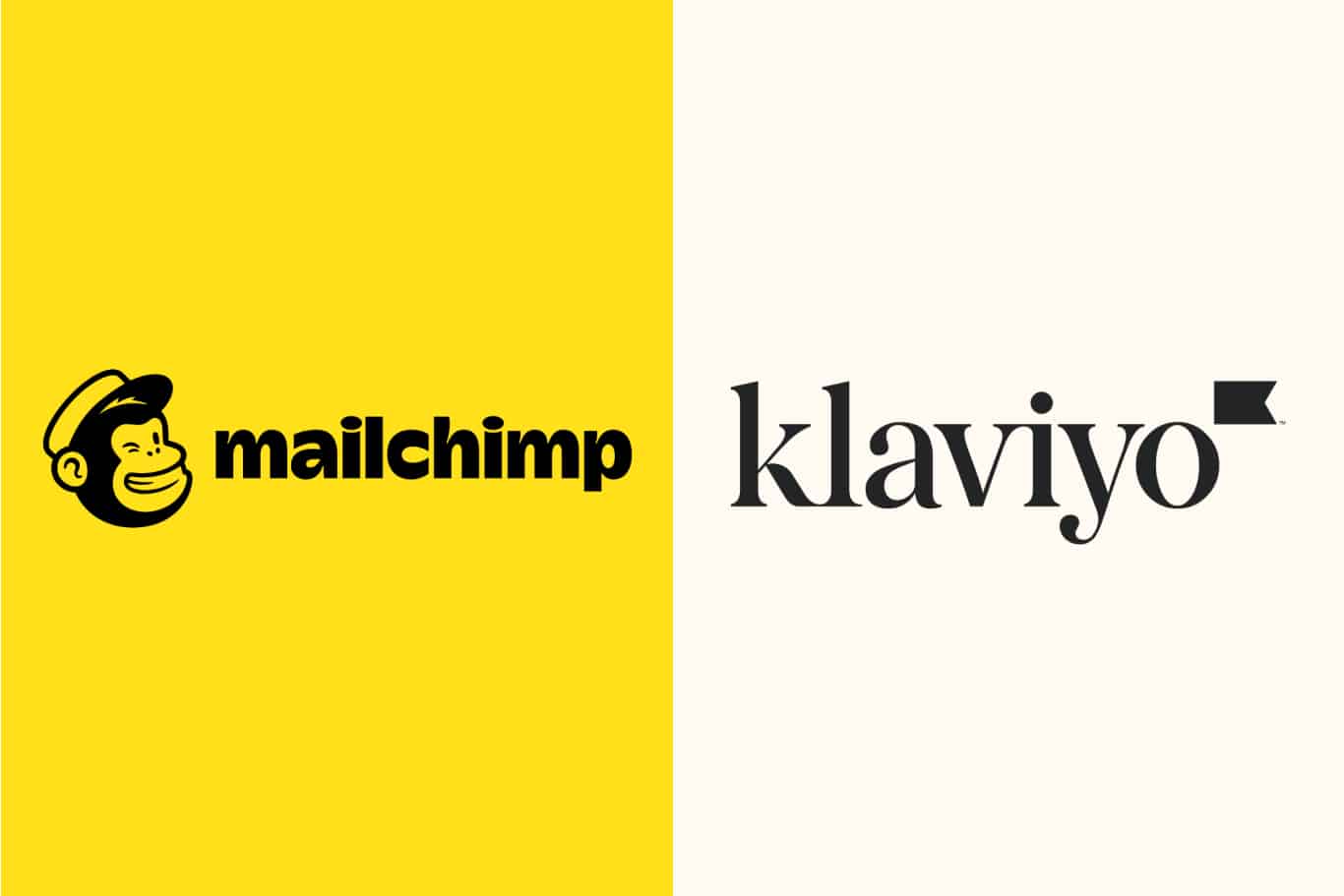 Email tools like MailChimp and Klaviyo have the functionality to set up automated email flows which will be invaluable over the busy lead up to Christmas.
You can plan and set up all your email flows earlier on in autumn when everything is a bit quieter, and automate them to be sent out as and when users trigger them.
You might want to automate a countdown email flow to remind users to get their orders in time for Christmas, or run a range of offers and deals throughout the festive season.
And when it comes to the post-Christmas sales, you can sit back and relax, knowing that all the email reminders have been taken care of.
2. Make gift buying easy
Make consumer decision-making as easy as possible.
Modern consumers want to see product benefits at a glance and also want speed and convenience when shopping online. The more you do to make their decision-making easy, the more sales you'll enjoy.
The best example of this is Christmas gift guides, and options to search for categories of presents. For example, a collection of stocking fillers, the perfect gifts for men or unique gifts for gardeners. You can see how investing time in this helps your SEO too.
Showing related products at certain points through the user journey might help to increase your AOV and help users find relevant products even more easily. 
Setting up Christmas focused categories for gifts, decorations, food and more will make it much easier for users to find what they're looking for, and in turn, more likely to buy from you.
Having one dedicated Christmas page that you can reuse is also beneficial in terms of SEO as you keep one URL that doesn't need to be relinked every year.
As price is a big factor, a much-appreciated gift-buying aid is grouping purchase ideas according to cost. Such as items for less than £10, £20 or £30 for example.
3. Christmas shopping discounts
Offer special online discounts to your customers for Christmas.
Physical stores use special offers – like three gifts for the price of two – to bring more Christmas shoppers through their doors. To boost your sales, there's no reason you shouldn't offer similar incentives to buy multiple purchases. Or you could offer free delivery over a certain amount. This encourages shoppers to pop another item in their shopping cart to qualify.
Also, you could target existing customers via emails offering discounts for Christmas ecommerce spending. It's the sort of thing that keeps them loyal!
Think about your post-Christmas discounting now too. Ready to turnover stock quickly and keep sales coming in when the main festival spending is done.
4. Evaluate and optimise your website
Run a user experience (UX) audit on your site to ensure it is optimised.
You can get creative with the above ways to improve your Christmas online shopping site. However, don't forget the nuts-and-bolts underpin User Experience (UX).
Is your ecommerce website responsive enough? Is it working well on small screens? 53.74% of site traffic comes from mobile users, so don't miss out on the sales of your Christmas gifts, food and decorations because your site isn't optimised for mobile!
Are your pages displaying the correct stock amount for items? The last thing you want is something to show as out of stock when it isn't! If you are not managing your customers' expectations you will lose Christmas eCommerce sales.
Check for broken links and search problems, or slow to load page features. It's the little things that could make customers click away.
Prepare for More Traffic
Christmas is also the time of year when websites see a massive spike in traffic. Make sure your site has sufficient hosting to avoid slow speeds, or worse, it crashes altogether. 
If you want to make sure your site is ready for a large increase in traffic, we recommend upgrading your hosting. It's also important to choose the right hosting provider for your business – if you have the financial resources to upgrade your hosting year round, go for it. 
However, it might be more financially viable to choose a provider that allows you to downgrade and upgrade your hosting throughout the year as and when you need to.
Setting up notifications so you know if your site is not performing or has gone down altogether will also give you a headstart on fixing your website as soon as it goes down, rather than waiting for frustrated customers to contact you and potentially losing out on valuable sales. 
5. Ecommerce policies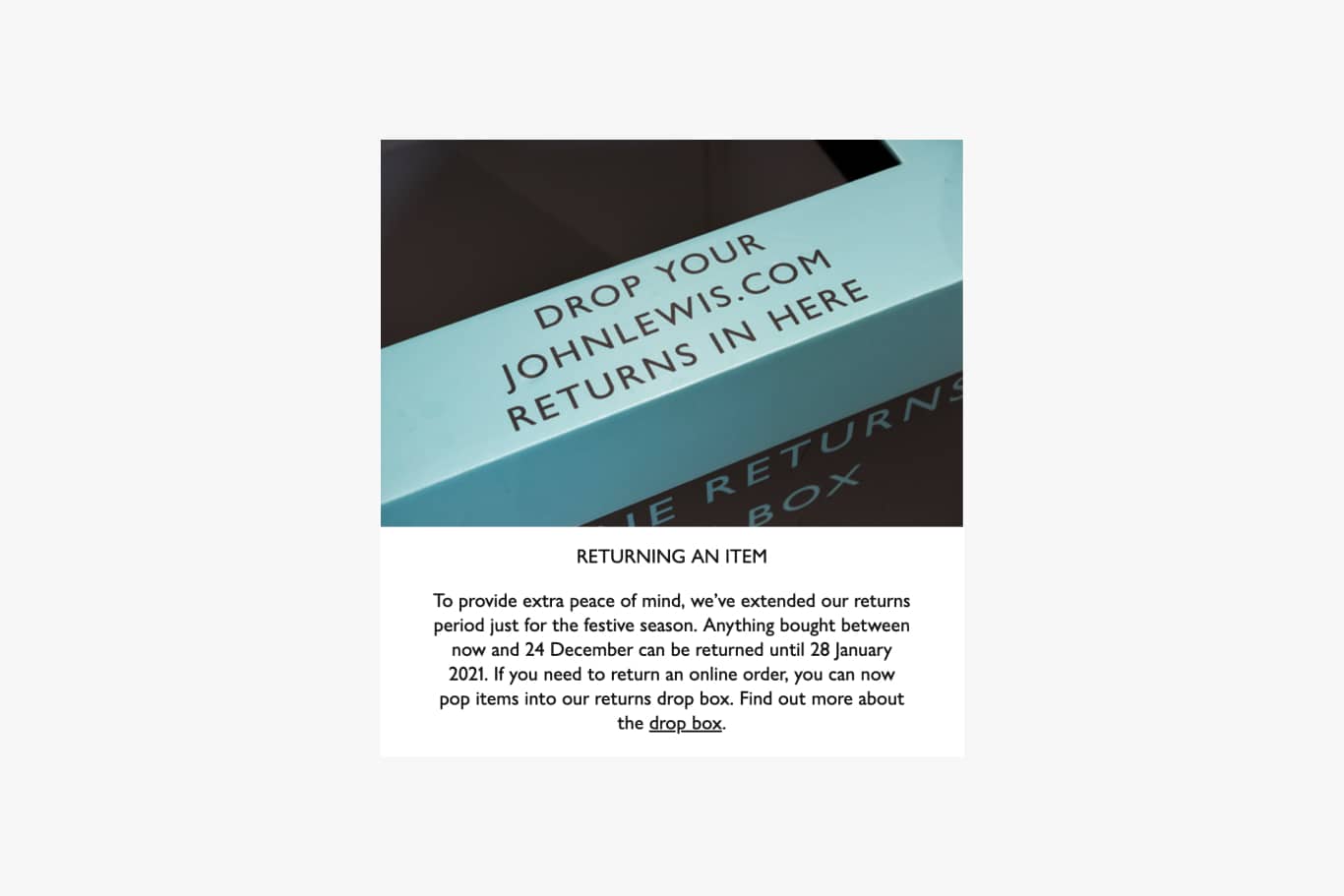 Make your ecommerce store policies clear to avoid customer frustration.
Lack of clarity on Christmas delivery deadlines can be a source of customer dissatisfaction. You don't want a raft of complaints when you're busy getting orders out.
Make shipping arrangements clear – early – including your delivery charges and any potential for festive delays. Can customers pay more for fast delivery?
Some of the most successful online retailers include tracking systems in conjunction with the couriers they use, to keep customers informed. At the very least, be honest when delays or issues do happen.
Also, make your returns policy easy to understand and empathetic. Some people will only buy items from companies that accept that mistakes and unwanted items are a reality.
Achieving Christmas ecommerce sales goals
All the above will help you to keep your ecommerce website more competitive, attractive and successful. However, if you're not currently measuring 'what that looks like', it's time to start.
Look at your previous sales figures, and then measure how well you exceed those by improving your website design. Consider other ways you can achieve better lead conversion too.
Remember, good page design is not just for Christmas online shopping! You need to be confident of starting 2022 with a great chance of having a fabulous New Year.