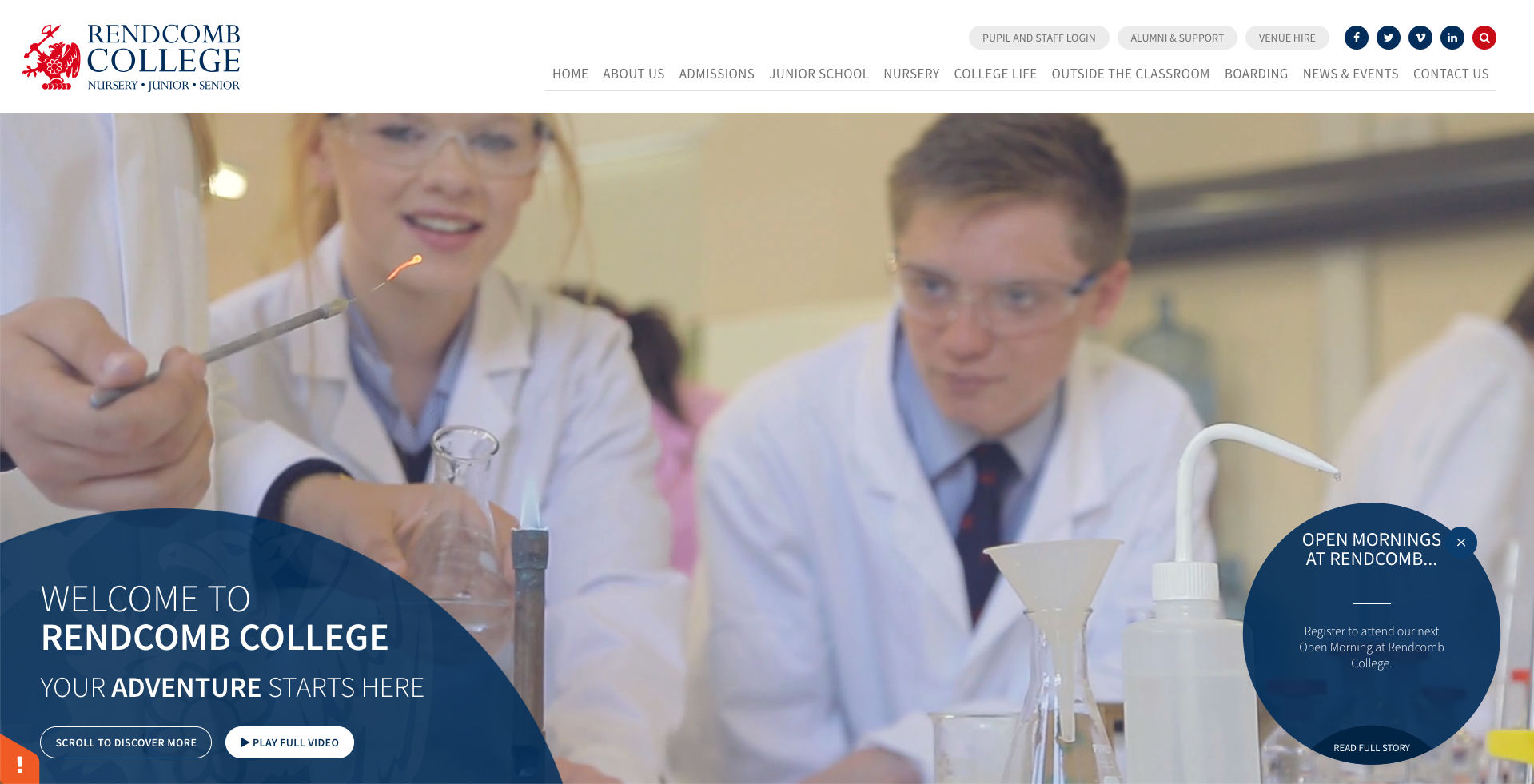 Who
Rendcomb College educates and cares for pupils aged from three to 18 years old. 
Students come from throughout the UK, and overseas too. They include some local pupils who choose to attend as day students. 
Sitting in beautiful Cotswold's countryside, it has a prestigious history as an inclusive and effective seat of learning, but it understands that parents and students base their choice of school on far more than that.
Brief
The main thrust of the brief presented to Factory Pattern was to ensure that the college enjoyed a high level of appropriate website traffic; visitors genuinely researching independent boarding and day schools.
The private education sector is beset with more than its fair share of myths and misconceptions. Rendcomb College was also keen to address many of these 'head on,' as part of its work to show prospective parents that they are a wise choice.
This meant that the client needed to make the school's ethos, policies and caring community environment crystal clear. Parents – or young people – visiting the Rendcomb College website had to quickly see the merits of the school, with well-rounded and transparent insights.
Factory Pattern was tasked with generating website content that informed, influenced and affected readers.
Solution
As always with Factory Pattern's insightful work, it started with cold hard research to form a bedrock for successful outcomes. Much of this hinged on finding the keywords and phrases that parents and students use in their research on this topic.
The agency team completed ethnographic user research, to gain a clear perspective of student needs, interests and ambitions when considering an independent school. If Rendcomb College could address these 'smartly', it would ensure the school found a receptive audience for its digital marketing.
From this point, Factory Pattern instigated a UX redesign. The client's website was improved to ensure it was accessible and easy to navigate but also packed with compelling content.
These overall website improvements were supported with a focused and measurably effective email campaign.
Outputs
Having 'schooled' Rendcomb College in improving its website performance, the Factory Pattern team began to measure the tangible differences that the client enjoyed.
Rendcomb College is now 'top of the class'
SEO analysis shows that Rendcomb College is now 'top of the class', high up in rankings including consistently on page one of Google for 'boarding schools in Gloucestershire'.
76% increase in its organic
The independent boarding and day school is also delighted with a 76% increase in its organic website traffic, w

ith 53% of visitors to the site finding Rendcomb College online when searching for private education options.

Ranking in page 1 of Google on a national level
Not only have we increased local presence; Rendcomb College are now ranking nationwide, and are on page 1 of Google for terms such as 'junior boarding school in uk'. Resulting in national brand awareness and reach which is bringing in new pupils from new areas that they weren't targeting previously