It has to be said, you can build any type of website with WordPress and recently we've been building membership sites using said platform (WordPress).
Membership websites such as online job boards, competitions and sites which serve up 'member only' content are an excellent challenge to build, as there are plenty of challenges to consider.
The challenges of a membership site
The challenge of a membership website is to make it easy to register and simple to use once the user's logged in. Areas to consider are login forms, registration forms, automated registration/lost password emails, user profiles… The list goes on.
Luckily, WordPress has lots of the above functionality straight out of the box. However, at some point your going to need further controls such as login redirection and different membership levels.
The WordPress plugins we recommend for membership

First and foremost you'll probably need a plugin which allows you to setup multiple membership levels or roles as they're more commonly known.
For example, you may want bronze, silver and gold levels of membership, where users can access specific information or content depending on their role.
Theme my login not only allows you to setup membership levels, but it also comes with other fantastic features such as:
Your registration, log in, and password recovery pages will match the rest of your website
Redirect users upon log in and log out based upon their role
Assign custom links to users who are logged in based on their role
Customise emails for registration and/or password recovery
Send user emails in HTML format
Allow users to set their own password upon registration
Customise user profiles
And many more features…

The settings page above gives you an idea of what options and modules are available with Theme my login.
Once you're all setup with Theme my login, the next step will be to hide or show content based on specific user roles.

Dovetail adds basic yet beautiful membership tools to your WordPress website.
After installing and using several plugins, we felt that they were all a bit complex, so here at Factory Pattern we created Dovetail.
Our intention with Dovetail is to create a membership plugin which stayed as close to the "WordPress Way" as possible, whilst also being extendable and powerful. Think WooCommerce for membership.
With Dovetail you can use the Menus feature in WordPress to hide or display pages or posts depending on the users role.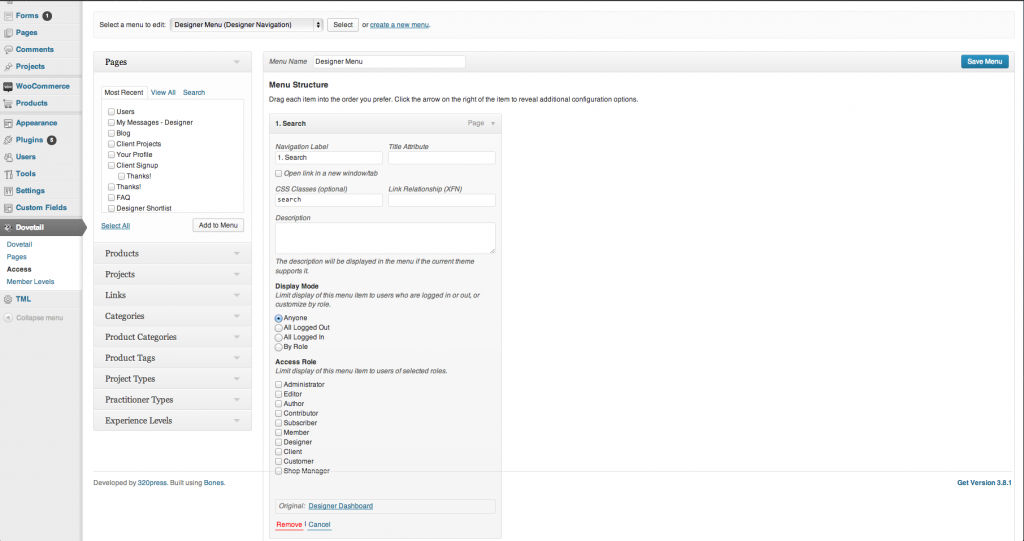 With Dovetail, you can also do the following:
Set up new user levels/roles or edit old ones and also restrict access to pages within the page editing screen.
And that's as simple as it gets with the Dovetail plugin.
Once the TML and Dovetail plugins are installed you'll probably need some sort of custom registration – for this we simply use Gravity Forms with the User Registration add on.
In summary
In reality, you only need 2 or 3 plugins to achieve a WordPress membership website and if you want to go the extra mile, it's always a good idea to further customise the look and feel of the login, registration and profile pages; for this you may need a magical designer/development team such as Factory Pattern.
We'd love to hear your questions or comments on website membership, so please get in touch with us or comment below.